Recipe
Khakhra Chaat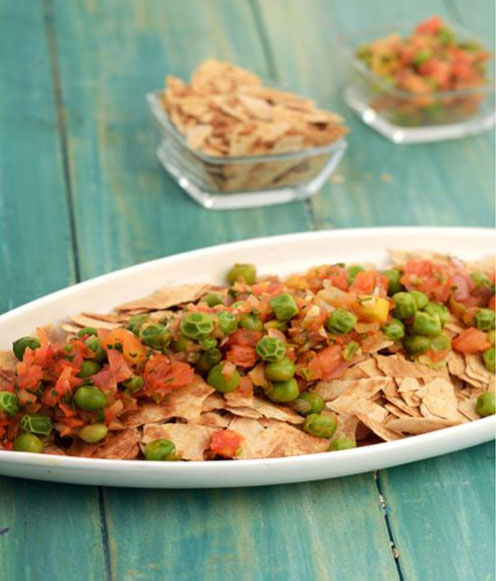 This crunchy and tangy combination of khakhra and topping made from vitamin a and fibre rich ingredients like tomato, green peas and paneer is healthy, tasty and filling!
Author: Dr. Aroona Reejhsinghani
Recipe type: Side dish
Cuisine: Indian
Ingredients
1/2 cup
1 tsp
4
1/4 cup
1/4 cup
1/4 cup
1/2 cup
1
1 tsp
1 tsp
1/2 tsp
1 tbsp
2 tbsp
Instructions
Steps to assemble Khakhra Chaat
Heat the oil in a pan, add the onions and garlic and sauté till the onion turns translucent.
Add the puréed tomatoes and cook till the oil separates.
Add the paneer, sweet corn, green peas, tomato, green chilli, sugar, chilli powder, oregano and salt and sauté for 2 to 3 minutes.
Remove from the fire and keep aside.
Place the khakhra pieces on a serving plate.
Spread tomato topping over it and garnish with the chopped coriander.
Serve immediately.